Phyllostachys nigra, also called Black Bamboo, are evergreen fast-growing ornamental plants.
The black bamboos have spectacular ebony black stems (culms).
However, do you know there are other cultivars of the Phyllostachys nigra?
In fact, there are over 10 Phyllostachys nigra bamboo plants with black stem colourations, spots and stripes.
Phyllostachys nigra 'Black Bamboo'
This black bamboo plant is awarded the RHS merit for its unique features, described as 'one of the most elegant bamboos, with polished, damson-black mature canes and dark green leaves.'
Nigra Black Bamboo is a standout due to its ebony black stems (culms).
Black bamboo plants best features
The black bamboo plants are resilient running bamboo varieties. They thrive in variable soil and weather conditions and are tolerant of pests and diseases.
These stunning bamboos have black culms, or black and brown spots and stripes along the sulcus.
Their culms are tall, slender and upright with gentle arching foliage.
They are fully hardy to – 20 degrees Celsius.
Black bamboos are formidable landscaping plants, also ideal for garden hedging and privacy screening.
Some cultivars of black bamboo plants also thrive in pots and containers, and other confined outdoor spaces.
What are the different black bamboo plants?
There are over 10 black bamboo plants (cultivars), however, you can find half of them in-store or online within the UK.
They are obviously called black bamboos because of the predominantly black culms.
Some bamboo cousins of the black bamboo nigra have green culms with black spots and stripes.
The 4 common black bamboo plants that grow in UK gardens are:
Other lesser-known black bamboo cultivars
Recently, the other lesser-known black bamboo cultivars (such as the Phyllostachys nigra henonis, 'Boryana' and 'Megurochiku') are growing in popularity among curious and enthusiastic bamboo growers.
Here are some black bamboo cultivars that you may want to find out more about.
These bamboos can be quite hard to find near you.
Phyllostachys nigra 'Fulva'
Phyllostachys nigra 'Hale'
Phyllostachys nigra 'Othello'
Phyllostachys nigra 'Han-chiku'
Phyllostachys nigra 'Tosaensis'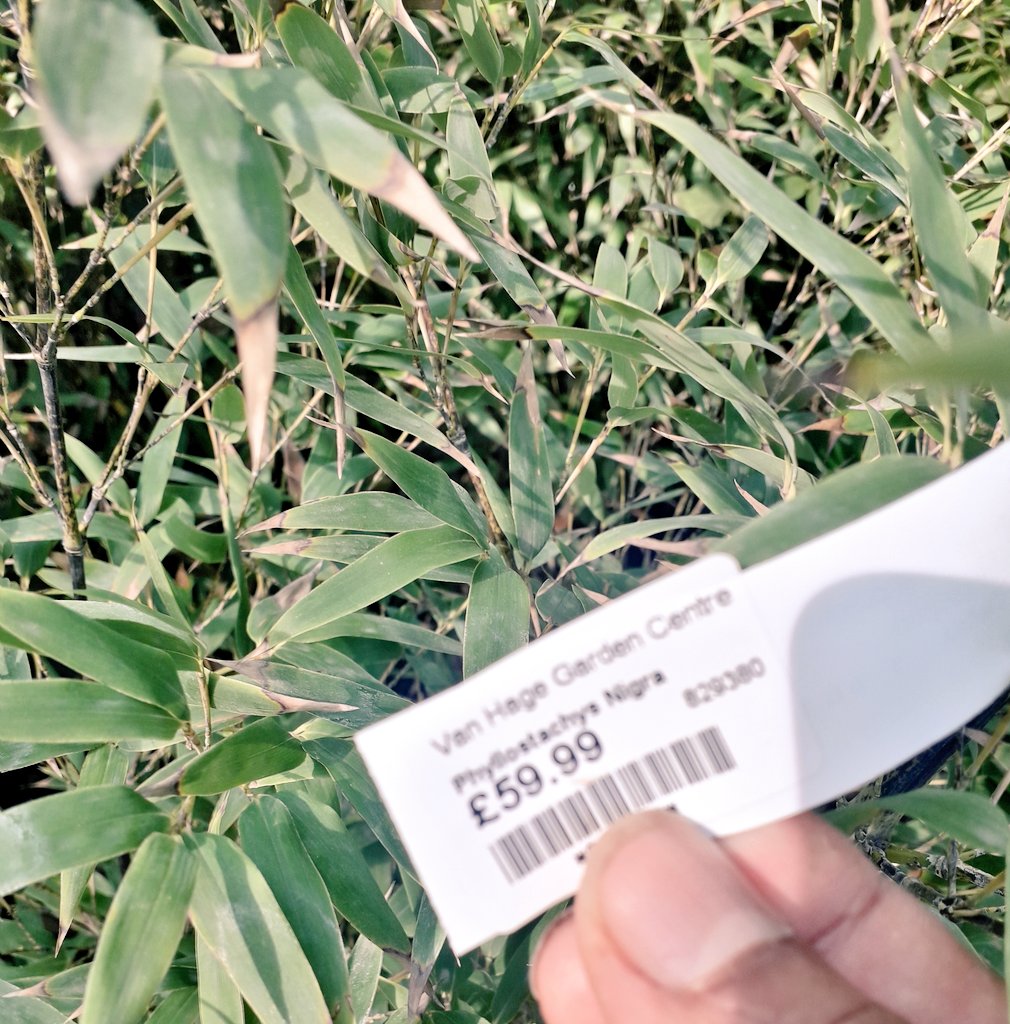 Cost of Black Bamboo Plants UK
How to identify Phyllostachys nigra bamboo plants?
We covered the qualities and features of the cultivars of Phyllostachys nigra in detail in this article.
For comparisons, follow the links, see the images, and watch the video. Generally, all the Phyllostachys bamboo plants have black or black colourations on the stems. Most are slightly flattened on one side.
The branches appear in pairs at the node with slim elongated shiny leaves.
Phyllostachys nigra black bamboo plants have distinctive black culms, but the other Nigra Bamboos have green culms with dark spots or stripes that run along the internodes and sulcus.
The stem colourations are often prominent in sun. These running bamboos are invasive.
Why use bamboo Root Barrier
Using a bamboo root barrier is essential for containing the rhizomes of invasive plants like the Phyllostachys nigra.
These bamboos are running bamboos, top above the invasive varieties.
Create a root barrier before planting running bamboo, unless you are growing them in a contained space.
If your bamboo does not have a root barrier, here are some places where you can get one.
The plastic root barriers are formidable – strong enough to stop rhizomes from spreading.
For more on how to maintain black bamboo plants,
check out this article
. It has details on care and maintenance as we as videos of care and maintenance of bamboo groves.