Phyllostachys aurea Fishpole Golden Bamboo is an all-rounder, slim running bamboo, that grows well in shade, part shade and sun, with spectacular evergreen slender leaves and light green stems that mature to golden yellow.
This is one of the best bamboo plants to grow for garden bamboo sticks because of its thick and slender tall stems.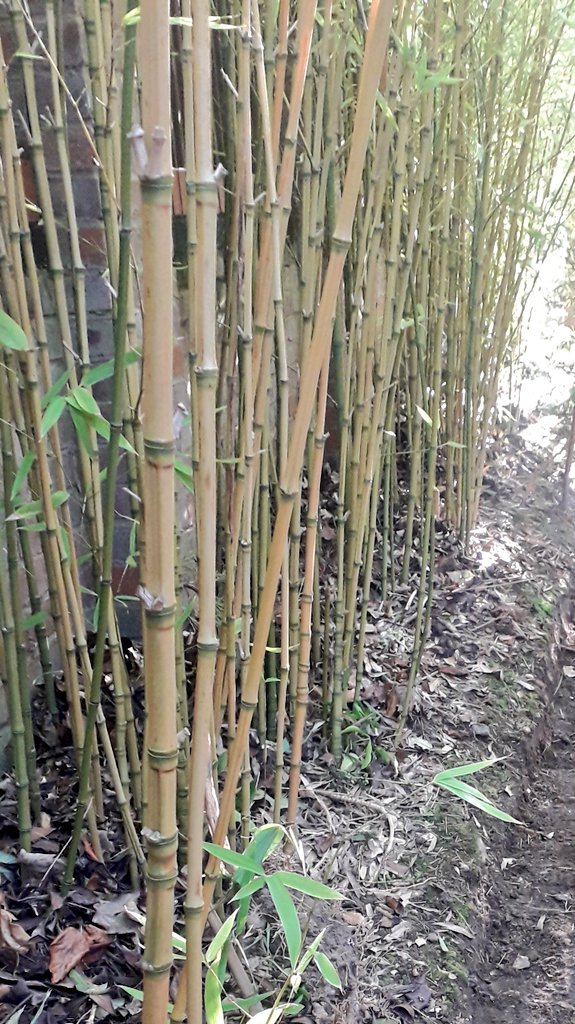 Golden Bamboo Phyllostachys aurea UK sales
The RHS has recognised Phyllostachys aurea for its outstanding garden features.
Check out the UK bamboo suppliers.
Identification: Phyllostachys aurea, Fishpole Bamboo, Golden Bamboo.
Site: Tolerant bamboo, grows in full sun to partial shade and shade.
Soil: Prefers moist and well-drained loose soil (sand and loam), doesn't like compacted soil.
Uses: Excellent for hedging, screening, windbreak, or pots and containers.
Winter hardiness: Hardy to - 20 degrees Celsius.
Height: Fast-growing plant, 2 – 4m.
Spread: Running bamboo, allow space to spread or contain in large pots.
Foliage: Light green to yellow foliage all year round.
Stem: Slender bright green matures to golden yellow in full sun.
Phyllostachys aurea gives the best garden sticks
Uses Phyllostachys aurea Fishpole Bamboo
Although the fishpole bamboo is tolerant to shade, it grows well in part shade and sun.
Sufficient sunlight will result in a significant transformation in the colour of the culms (stems) and foliage from green to golden yellow.
This running bamboo behaves more like the clump-forming bamboo in the UK where it is cooler. Here are two other running bamboo plants that act like clumpers.
However, the rhizomes are invasive where the soil is loose and rich in moisture and nutrients, so grow it where there is enough space for them to grow.
The Phyllostachys aurea is an ideal bamboo for hedging, privacy screening and windbreak in the garden. It is also an excellent bamboo plant for medium to large pots and containers.
Notably, it does not like soggy soil and it definitely does not like compacted soil. It prefers well-drained loamy soil, loose and rich in moisture.
Propagate Phyllostachys aurea
Bamboo growers are propagating Phyllostachys aurea from seeds and rhizome cuttings, and base separation.
However, bamboo seeds are often hard to buy near you because they do not flower regularly.
The 2 best ways to propagate Phyllostachys aurea
is by base separation and
from rhizome and culm cuttings.
This video shows the work we did at Garden Bamboo Plants UK.
Phyllostachys aurea Grow and Care Tips
The new growth will require care and attention.
Slugs adore the tender new growths, they can wipe off the fresh leaves in one visit if left unprotected.
If you are propagating bamboo plants either from the rhizome or culm cuttings or planting a recent purchase, protect the new growths by adding Slug and Snail Killer.
(Check out where to buy Bamboo and bamboo supplies)
Perhaps it is important to note that despite its clump-forming nature, the Phyllostachys aurea is a running bamboo.
The bamboo's horizontal rhizomes can spread to an average of 4m if left unchecked. It is best to give it space to grow.
Alternatively surround the roots with root barriers to restrict the rhizomes from spreading.
Better to grow Phyllostachys aurea where there is enough space, away from strong wind.
It can also be grown in large pots and containers to contain its spreading.
Facts about Phyllostachys aurea
The matured Fishpole Golden bamboo will thrive in well-drained loamy soil with high moisture and nutrient contents.
Like most bamboo plants in the UK, they do not like compacted dry soils such as new building sites or roads and pathways.
In addition, the matured bamboos thrive on what is available in the soil, they will occasionally need feed and water.
A regular check is recommended if you are growing them in containers.
The browning of the culms or yellowing of the leaves are signs of the plant in distress. Here is an article on how to revive your bamboo plants where they show signs of distress.
Check the soil by inspection or digging to 10 cm depth to find out if the soil is too dry. Add, mulch fertiliser or any plant feed if necessary.
If your Phyllostachys aurea plant outgrows the container and shows distressing signs, it is calling for you to separate the plants and re-pot them.
Also, prune the old culms ideally in early Spring for the new growth to take over.
We invite you to check out our YouTube Channel – Amazing Bamboo Plants.