Clemantis come in different shades of pink, purple and white and they bloom througout the year. There are over 300 cultivars which are divided into three groups based on their flowering habits.
Generally, most clematis need atleast 6 hours of sunlight to produce strong foliage and healthy bloom.
But there are a number of clematis cultivars that thrive on walls and fences in heavy shade.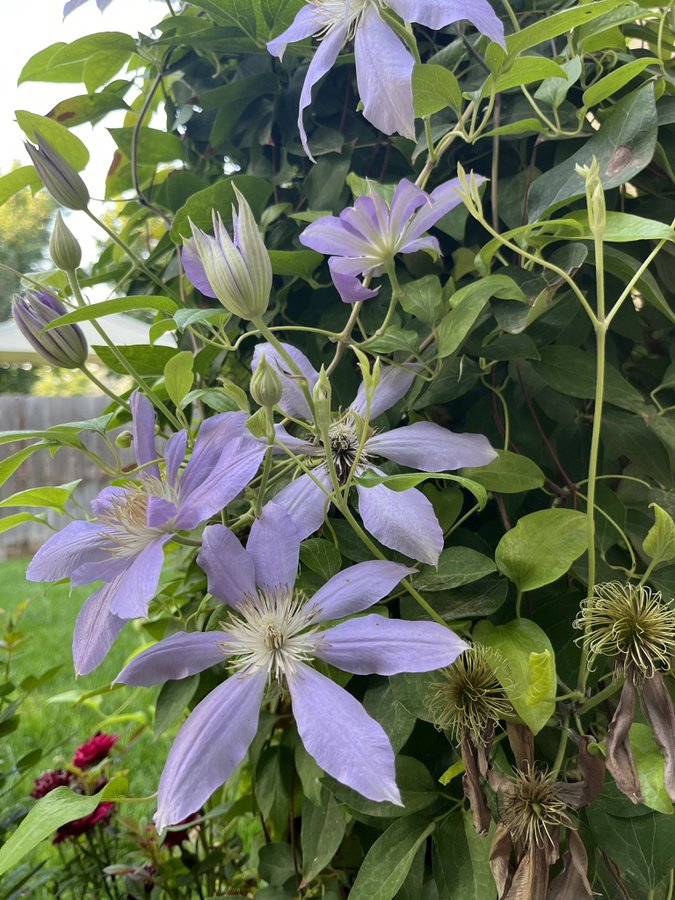 Common name: Clematis
Family name: Buttercup family (Ranunculaceae)
Native to: China and Japan
Group 1 & 2 Clematis for Shade
According to the RHS, the '[e]arly summer, twice-flowering types are particularly suited to a shadier position, as this can help to prevent premature fading of flower colour'. These are the Clematis in Groups 1 and 2 of the general classification.
The Group 3 Clematis tend to flower late in summer and early autumn are are not best for shade.
So, here are the 5 main groups of climber Clematis that grow well in shade. Each group may have more that one cultivar, so check the plant specification before buying it.
Clematis alpina
Clematis montana
Clematis armandii
Clematis macropetala
Clematis Crystal fountain
Does Clematis need full sun?
Generally, most clemantis prefer sun to produce healthy foliage and flowers.
But cultivars from the 5 groups above are tolerant to shaded areas. They will thrive in shade and part shade.
Also these vine plants will need trellis support and protection to grow well onto walls and fences that are in the shade.
Plants that grow well in shade UK
Looking for shade-loving plants? we list the best shade plants that grow well in the UK, flowering plants, non-flowering plants and bamboo plants.