Tacca chantrieri, the black bat flower, is a tropical plant that grows well in shade. The flowers are somewhat bat-shaped and have long 'whiskers'.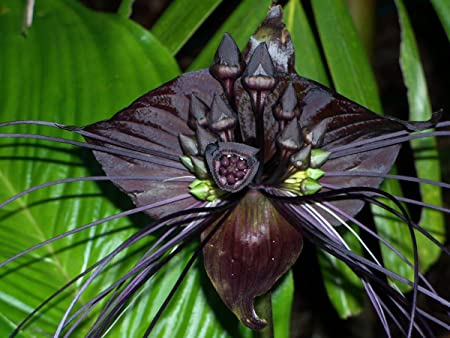 Tacca chantrieri (Dioscoreaceae) or 'Bat Flower'
Common Names: Black Bat Flower, Cat's whiskers, Devil's flower
Family Name: Dioscoreaceae
Native to: Southeast Asia
BUY THIS PLANT HERE
The 15 species of Tacca chantrieri (Dioscoreaceae) or 'Bat Flower' range in form and colour, thought to have originated in Malaysia.
The 'whiskers' of the flowers are called bracteoles, which are thought to have evolved to resemble rotting organic matter to aid pollination, but some botanists thought it is a self-pollinated plant.
The reason for these unsual whiskers is not clear.
Shade-loving plant
The bat plants are an excellent addition to any Gothic and tropical gardens, indoors, or as an understory plant where the area is heavily shaded.
Plants that grow well in shade UK
Looking for shade-loving plants? we list the best shade plants that grow well in the UK, flowering plants, non-flowering plants and bamboo plants.