Lucky bamboo plants do not belong to the real bamboo family, Poaceae. They are related to the tropical water lily plants, scientifically called Draceana sanderiana.
Its other names include Chinese Water Bamboo and Friendship Bamboo.
These plants are versatile monocots with succulent stalks, which are completely different from hollow bamboo canes.
They are native plants to the tropical regions of the South Pacific, Southeast Asia and parts of West Africa; and grow abundantly near streams or natural water pools.
The lucky bamboo plants thrive in water and that's why they are one of the top houseplants.
They are traditionally given as gifts, symbolising success, health, goodness and wealth.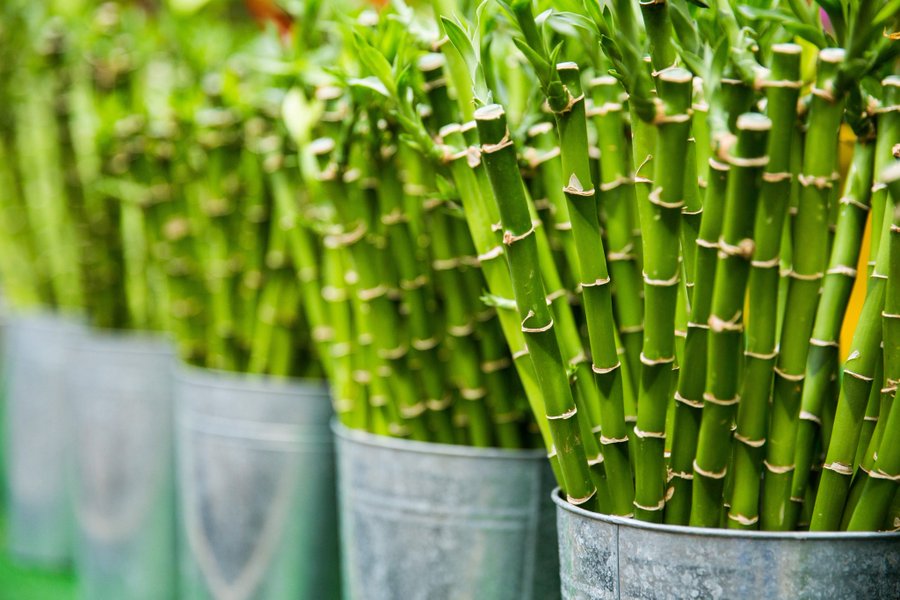 1. How fast do lucky bamboo plants grow?
Lucky bamboo is a relatively fast-growing plant. It can grow to 8 cm in a month, reaching its maximum height in one year.
2. How tall does lucky bamboo grow?
Lucky bamboo can grow to about 100 cm and spread 20 cm. But it also depends on whether the bamboo is growing in water, gravel or soil. Other indoor conditions can also affect its growth.
3. How long do lucky bamboo plants live?
It's hard to say but like other indoor plants, its longevity depends entirely on the care they receive. The indoor bamboo plants can live up to 5 years where conditions are the best.
Also, your plants can live longer if you re-pot them from water to soil.
4. What to do if lucky bamboo leaves and stalks turn yellow?
Separate the affected plants and re-grow them.
5. Can I grow lucky bamboo in soil?
Absolutely, you can grow lucky bamboo in soil. You can also grow them in gravel and water.
6. What is the best way to propagate lucky bamboo?
The best (and probably) the only way to grow lucky bamboo is by using the 'cuttings'.
7. Is lucky bamboo poisonous to cats?
Lucky bamboo is poisonous to cats and other pets when ingested. So, keep it out of reach of pet animals.
8. How can I grow lucky bamboo in water?
For best results, use distilled water and clear glass vases to grow lucky bamboo. Read about the best ways to grow them.
9. What is the difference between 'propagating' and 'growing' lucky bamboo?
These terms are used interchangeably, but propagating lucky bamboo refers to the initial phase of getting the plants to root and put out leaves before planting.
Whereas, 'growing' is often used when re-potting (planting) a lucky bamboo that has already been rooted.
10. What is the 'one thing' I must do when planting lucky bamboo?
The top tip is to use distilled water every time whether you are propagating or growing lucky bamboo or replenishing water.
Why is lucky bamboo popular?
Though lucky bamboo plants are poisonous to cats, they are becoming popular, and it is easy to see why.
They are fantastic indoor plants, undemanding and adored by traditional gardeners in many parts of the world. Their vibrant shiny green colour is hard to miss.
They are such happy plants. They'll grow where you put them.